My Personal Page
My Guardian Angel
She's not always around when I need her but when she shows back up I always forgive her!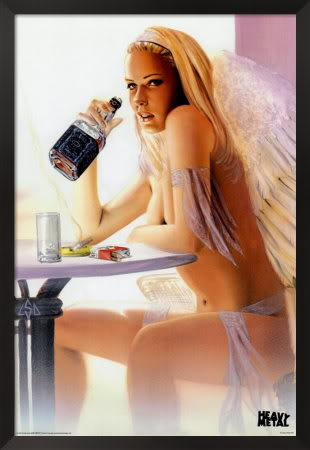 My Life
I wasn't one to settle down. A bit of a free spirit, I slipped society's leash. I didn't want children and stayed single. For me, it's about different experiences. The open road. In my younger years I hitchhiked to Atlanta with Danny Pendarvis to and visited the Peachtree St. hippy area and found a job for a day. The next hitchhiking trip was a month and a half trip with Ron Metcalf up to NY City, into Canada and out to LA California and back, camping in the woods along the roads or staying with friends. Got thrown in jail for 5 days in Green River WY for hitchhiking. Washed dishes until the Judge returned from a fishing trip. Got time served and they let us spend another night in jail as it was late in the afternoon.
I think we saved a travelling salesman's life the next day. He picked us up close to sunset and asked one of us to drive. He was soused. He got in the back seat and proceeded to work on his Vodka and OJ and lament his life. I was driving down a two lane country road at night when 3 Antelope jumped out and I hit one. The salesman got out to view the damage, got back into the back seat and said, "Just don't hit any Buffalo". We cracked up. We got into Rapid City SD and woke him up and he dropped us at a hill to camp. Went on the Minneapolis to visit friends and made it back to Oviedo in 4 days.
That whetted my appetite. Went to SCC and worked full time and in 72 went to Europe and travelled, splitting my nights up between cheap hotels, sleeping on trains between cities and in the woods. My second day in Heidelberg, Germany staying at my brother-in-law's base apartment (Army) the Baader-Meinhof Group, aka Red Army Faction set off a bomb in the parking lot of NATO HQ which was close enough to leave shrapnel in the front yard. That day there was a line of young German policemen with machineguns on the street I travelled on.
Travelled from the Arctic Circle to the Negev desert and hitchhiked in Luxembourg, Germany, Sweden, Greece and Israel. Went to Paris, Madrid (2 bullfights), Venice, the island of Ibiza, Rome, Jersulam, Dead Sea, Amsterdam, Narvik, the caverns in Saltzburg, Austria and a lot of places in between. Went to Israel and stayed just outside the old city by the Damascus Gate in a Palestinian hotel where I slept on the roof patio because it was cheaper. Hitchhiked from Jerusalem to the Dead Sea and back.
Returning from Israel to Athens I camped under the overpass outside the Airport where I had camped inbound to Athens from Italy. Hitchhiked out of Athens when I left and got invited to a cheese and tomato meal with a farm worker by the side of the road in the afternoon. Later that day I was picked up by some young Italians tourists one of whom was a communist and proceeded to lecture me on the sins of America until his friends told him to shut up and reminded him I was a long-haired tourist, not the president. That ride took me into Belgrade Yugoslavia (Communist, but open at the time) where I hopped a train back to Germany and later came home.
Went into the Army on a 2 yr contract for Europe with a six month cancellation clause if either was not satisfied with the fit. Went through basic at Ft. Knox, KY and AIT at Ft. Sam Houston in San Antonio. Flunked a chemistry course, lost the guarantee for Europe, met a young woman, invoked the six month clause, drove a taxi until she and I parted and I returned to Fl.
I attended Florida State University and their overseas program in London, England. The English management noted that each group tended to be either studious or a party group. In my group the Spanish maids were soon knows affectionately as the Heineken patrol. I crossed the Channel and hitchhiked in Germany and hitchhiked in England to Aldershot and Birmingham and up to Stonehenge, pub hopping and sleeping in the woods along the way. Getting out of a lorry at a roundabout on the way to Stonehenge I dislocated my shoulder and lay by the side of the road until it popped back in. It had been injured in basic training. Spent a freezing cold night at Stonehenge, met up with the student group visiting there and had my shoulder operated on when I returned to London.
The semester ended and the students left and I stayed in my room until the next group arrived and I moved into the basement and slept on a stored bed. I knew the two Bulgarian security guards and they had no problem. Management eventually officially took note and not being quite ready to leave London I moved in with an English family of hashish smokers who had a thing for Martini and Rossi vermouth. I met some interesting people there but my memory of them is a bit hazy.
In 1979 I took off to Belize, Central America (then still an English colony) to collect a few experiences. My first day I went to a local bar and met a guy who said he was a boxer and offered to be my guide. The bartender thought he was more of a drinker but since they seemed to know each other well I hired him and went drinking at local bars that night. He had a bit too many friends who he wanted me to buy drinks for and I tired of "pluck the tourist" and found my own way home.
Knocking back Rum and Cokes in the Bellview Hotel, a local hangout for English soldiers stationed there to keep Guatemala from exercising its claim over part of the country, I met an Englishman named John Cooper and did some photography for him and two of his three girlfriends. None knew of the others. John had fled England outrunning a battery charge when he found his wife with another woman. He had worked as a project manager in the Middle East until he left due to booze/women or accounting irregularities or both. He was drilling water wells for the government of Belize and had already been caught with ghosts on the payroll (to feed his rather prodigious appetite for booze and women).
I worked on his crew for a couple of weeks with the knowledge that if the government found out he would have to fire me. South of Corozal Town the crew stayed in an unscreened government rest house with an outhouse. The lady next to us had a contract to feed us. After a lantern dinner one night we stayed and talked with her and she played an old 45 record of The Battle of New Orleans over and over on an old battery powered phonograph. She wanted the British to leave Belize and was quite adamant about it. I later attended a British military ceremony with John Cooper and saw the English BlackWatch unit on parade.
The night before I left I was drinking at the Belview with John and spent too much money. He dropped me at the airport where I didn't have enough to pay the exit tax and had to beg some cash from a lady tourist. Had to hitchhike out of Miami airport at 10pm. Made it to Orlando the next day.
I've held over 45 jobs in my life: Farm, gas station, irrigation installer, taxi driver, armed guard, furniture delivery, about 6 or 7 construction positions in Orlando, Palm Beach County and Alabama, 21+ call centers from high paying 27k base signing contracts for travelling x-ray techs to stock touter in Winter Park to bottom of the barrel vacation rooms in Ft. Lauderdale where half the training class is gone the first week. In 07 I got a Life Health and Annuities license and worked gigs in 4 call centers in Orlando. Neglected my continuing education and had to take both tests over again for the last positions.
Lived in Orlando, Winter Park, Ft. Lauderdale, Plantation and Boca Raton Fl., Durham NC, Huntsville AL, Houston and San Antonio TX. and overseas. Got T-boned on my motorcycle in 93 and now walk with a cane.
I've had my fair share of bad habits and bumps in the road. Suffered from depression in my youth and even tried shock treatments. Quit a bad cigarette habit in 85. Quit hard liquor in 2000 and beer/wine in 2003.
I managed 2 apartment complexes in Ft. Lauderdale and Plantation. The first PT for 5 years while bouncing around call centers. The second, a 36 unit named The Zoo by the lady who owned vacation rental property next door. After 6 months I was tired of being Zoo Keeper and moved to Boca and an Internet Services call center.
I lived 10 yrs without a car in Ft. Lauderdale and Boca Raton, 9 years in a camper trailer without air conditioning or a Television on Runamuck Tree Farm behind Duda's sod fields where many Friday night discussions were held underneath the tractor shed and much beer and ammo expended by some. After it was sold I ended up on the couch of a twice divorced disabled guy I'd known for years. A property owner had cut down a telephone pole that crushed him clearing land then moved his assets to the Caymans and there was nothing for the lawyers to grab onto and he ended up with Disability and Opioid dependence. A hundred yards was a long journey for him. I gave him rides to the store and his many doctors appointments. Woke up at 4 one morning to use the bathroom and he was snoring in his chair. Woke up at 8 and he was dead at 61 from a heart attack.
Such events cause a reassessment. I cancelled my Life Health and Annuities license and used the money saved from the Errors and Omissions policy to buy camping gear and am now headed for a long overdue open road trip around Florida with >$500 of music on a flash drive. (Heavy on rock and roll but some Classical, Country, Spanish, and Irish too.) Noting but a few possible destinations in mind.
I don't know where I will settle but a town like that little old 1 stop light town I grew up in sure looks nice now. The body count in Orlando is depressing.
If you are interested in the Afterlife I spent several months in my camper trailer in 2015 reading books on Near Death Experiences and Quantum Physics. I have a lot of good Quantum Quotes on my website and links to near death experiences.
My current interests are health, herbs and the stock market. I have found several herbs such as Saw Palmetto that take care of conditions for me. My health page on my site is not finished yet. I spent 2,000 plus hours studying the market, stocks and ETFs and am heavily invested in biotechs with some dividend stocks. I put my notes and links in the form of a e-book on Amazon.com. Just type in Steven Raker. If you are into stocks/investing don't buy it. I'll email it for free.
Closing thought: Diet and exercise are the two legs health stands on.
May God Bless
sr